Chris and Naomi Thorpe own the Adastra Vineyard, their daughter Catherine Thorpe and husband Edwin Richards own the wine business; Edwin has made all the wines since 2016.
Chris and Naomi Thorpe, the owners of Adastra Vineyards, moved to Northern California in 1980. They bought the 33-acre Carneros ranch that was to become Adastra in 1984.

After several years raising Angus cattle, Chris decided he had had enough of chasing stray heifers at obscene hours of the night. He established Adastra Vineyards in 1989, returning vines to the Carneros property for the first time since Prohibition.

Adastra Vineyards began as four acres of Chardonnay and four acres of Merlot. Emboldened by the enthusiastic reception of wineries to the fruit, Chris expanded plantings of existing cultivars to seven acres each and daringly added six acres of the heartbreak grape, Pinot Noir.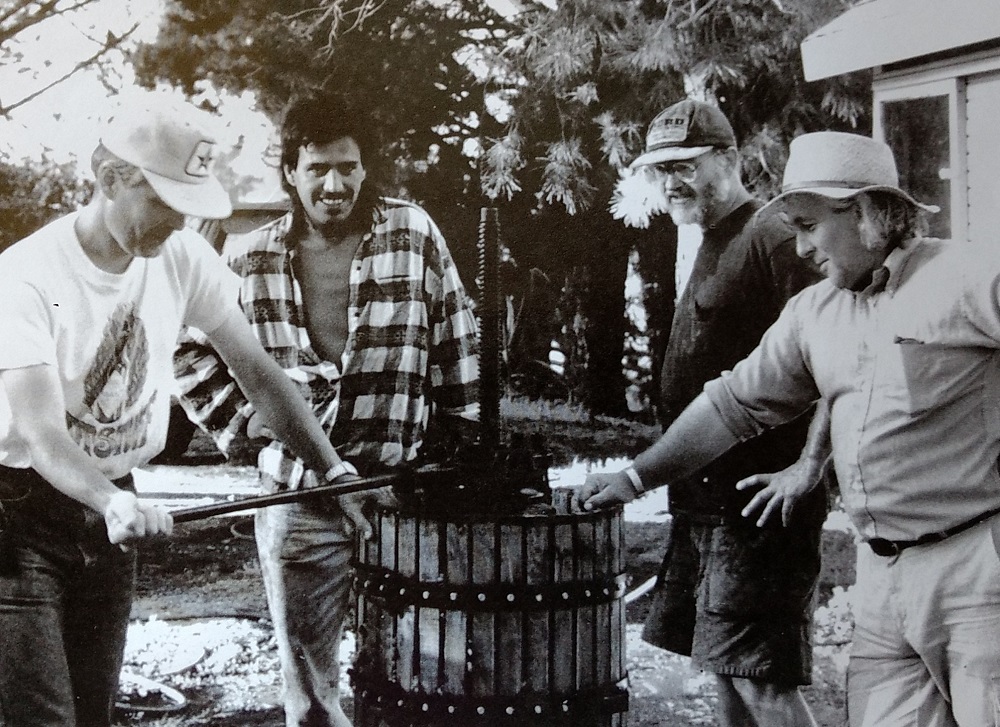 Chris (second from right) with family friends cranking out an early vintage on an old-fashioned press.
In 1995, son-in-law Edwin Richards became general manager at Adastra and wine production began in a small way with two barrels of Merlot. In 1996 the Merlot label was joined by Chardonnay, with quantities of both wines increasing slowly over the next few years.

Having sold all of its Pinot Noir grapes to Etude since 1997, Adastra began to withhold a small amount of this varietal in 2002. Seventy-five cases were made of the 2002 Adastra Pinot Noir, to great acclaim; subsequent wines are proving even more exciting.

Also in 2002, Adastra began to farm organically in the belief that this would produce better quality grapes and have a positive environmental impact. In 2005 its vineyards were certified organic by the California Certified Organic Farmers.
Edwin (in tan hat, at left) and Catherine (second from right, on tractor) during harvest, mid-2000s.

In 2007, Adastra launched Ed's Red, a negociant brand crafted by Edwin.
In 2011, we made our first Optimism wine. Boundless Optimism is an alternate label which allows us to experiment a little more.
Pam Starr was Adastra winemaker from 1997 to 2015. In 2016, Edwin began to make all the company's wines.
In 2016, we opened our tasting room on Sonoma Plaza.
For a detailed history of Adastra,
click here.